Snow and Ice Management in Middlesex County CT
Let us take the hassle out of the storm for you.
Snow Plowing
Because most property owners and managers look at snow plowing as an occasional nuisance and not a daily maintenance issue, little time, if any, is allocated to finding the best way to manage ice and snow removal. That's what we do! Leading a fleet of trucks, loaders, and sidewalk crews, our Middlesex County snow management network can service everything from corner lots to hospitals with acres of paved surface to plow. Coughlin Service Corp. goes to work tracking incoming storm events 48 hours out, alerting and preparing our team of snow fighters in advance so your property and parking lots will be clear and safe for your tenants and those that visit your site.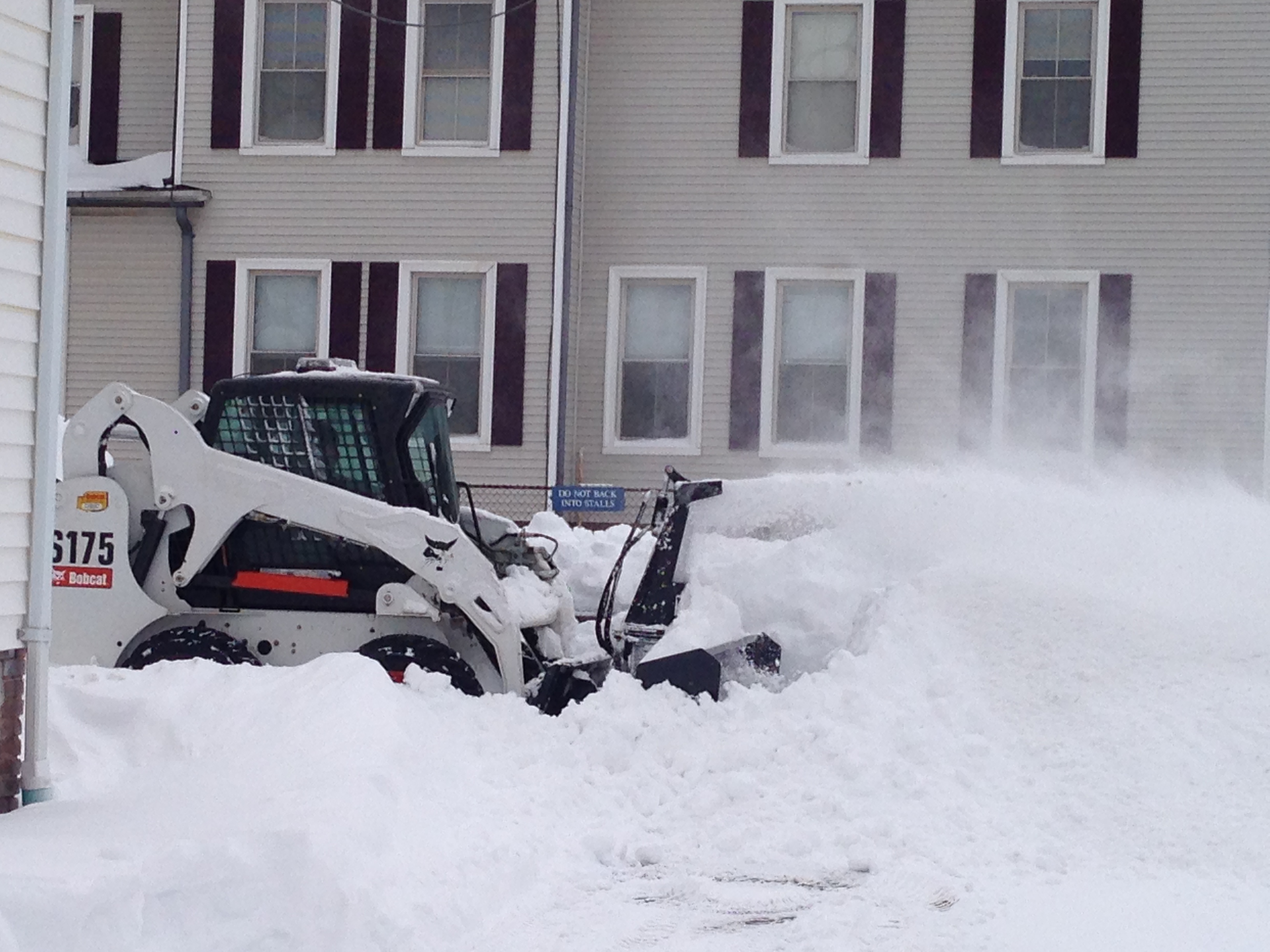 Sidewalk Management
Keeping walkways and steps clear from ice and snow insures safe passage for both employees and visitors. Coughlin Service Corp. works 24/7 during snow storms to keep your sidewalks clear and safe, scheduling return visits when storm systems stagnate and continually dump snow and freezing rain.Our team of snow fighters has the manpower and tools for cleaning snow from sidewalks. Armed with snow shovels, and skid steers mounted with snow plows, power sweepers, and salting systems our crews get the job done in an efficient and timely manner. We offer a full range of deicing materials and services applicable to your property's needs, to keep those walkways and steps safe and accessible for the duration of the storm and beyond.
Ice Control
Coughlin Service Corp. stocks over 400 tons of bulk salt all winter long, continually replenished daily if usage warrants. Our fleet of salt trucks make sure the only thing your sites are covered with is great service, not ice, and our ice teams keep accurate records of application times, protecting you from spurious slip and fall claims. Due to possible grass, concrete and asphalt damage, ask about our Safe Melt alternative which is safe for sidewalks, parking lots, grass and is pet friendly as well. Aslo visit our Ice Control Products page for more info or call 860-704-0425
Safe Melt®
Safe Melt® is a method that is becoming more affordable and is a safer way to melt unwanted ice and snow. The application itself is often long lasting and keeps snow from bonding to surfaces. Overall it is safer for animals, concrete, plants, and the environment as this de-icer is applied more efficiently because it is sprayed with a hose or nozzle into tighter spaces with greater refinement of application.
Snow Stacking
After a major storm event or two, the snow can really pile up, causing driving hazards for visitors and costing your tenants lost revenues as parking spaces dwindle. Sometimes this means moving snow piles, or "stacking" to widen out traffic lanes or clear prime parking space areas. Coughlin Service Corp's team of snow fighters are armed with a team of loaders ready to tackle your snow stacking needs.
For all your snow and ice management needs contact our team here or 860-704-0425